Description du produit
Groupe électrogène silencieux diesel Product Show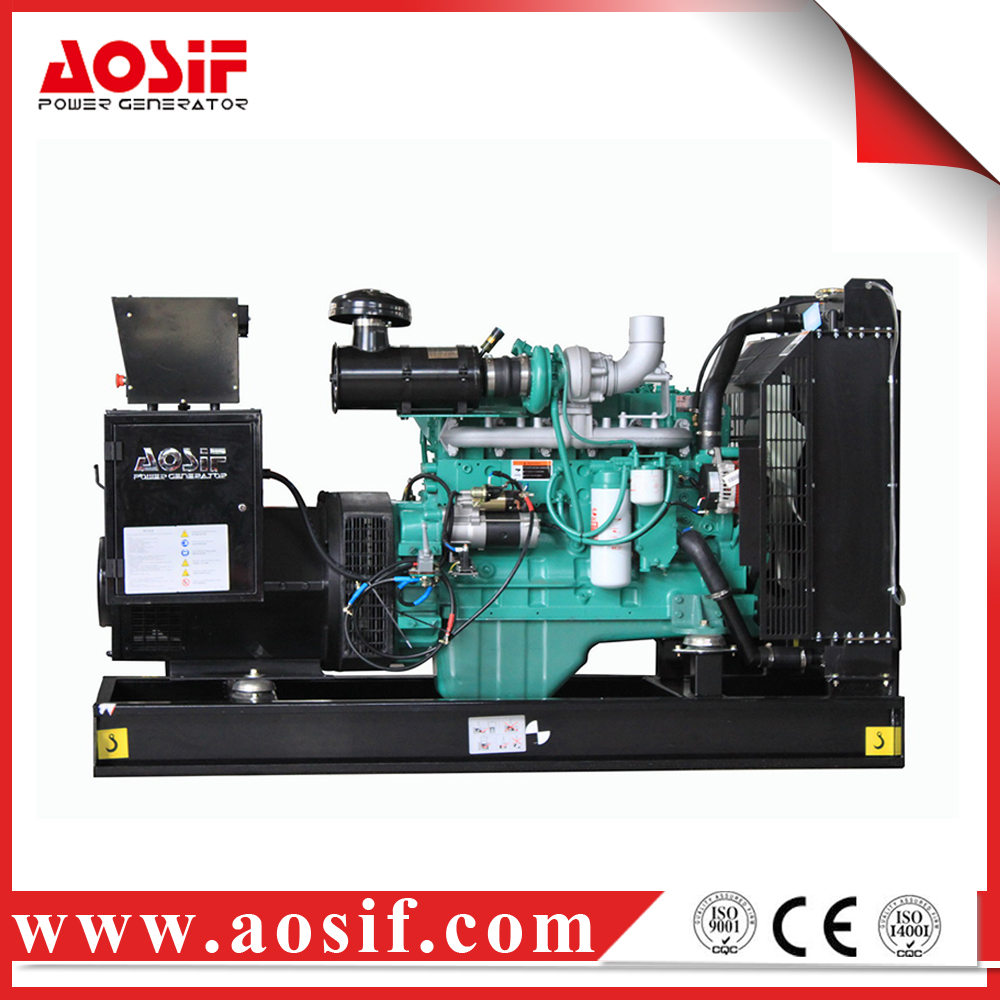 Genset Standard Configuration
♦ Assembled by Cummins diesel engine and world famous brand alternator
♦ Radiator and fan with safety guard
♦ Automatic control panel and electricity output switch cabinet
♦ Float battery charger and solenoid switch as standard supply scope
♦ Built-in shock pad
♦ Strong and durable hi-strength base frame
♦ Optional voltage rank: 230V/400V, 220V/380V, 127V/220V, 240V/480V etc.
1 Diesel engine

2 Alternator

3 Water tank radiator

4 Automatic control panel

5 Electricity output switch cabinet

6 Built-in shock pad

7 Hi-strength Base Frame

8 Solenoid switch
1 Exhaust silencer
2 Bellow
3 Elbow and flange
4 Starting battery
1 ATS
2 Synchronization system
3 Extemal daily fuel tank
4 Silent canopy
5 Trailer
1 Auto fuel pump
2 Fuel and water separator
3 Lub oil heater
4 Coolant heater
5 Fuel drain pump
DeepSea 6020:
It is a self-starting control module at mains failure and is suitable for controlling a single genset. It provides advanced engine testing and protection functions. This module includes an LCD backlit display that clearly displays the engine running status. The module also includes 7-channel input and 6-channel output. Program can be set through the panel and PC software suite.

Parameters:
Deepsea 6020 controller provides such parameters as generator frequency, idling/overspeed, generator voltage, generator current, engine oil pressure, engine water temperature, flexible fuel level, running hour, battery voltage, start/stop failure, emergency stop, failure to meet operating voltage/frequency, charging failure, magnetic sensor signal loss, low battery voltage, three-phase mains voltage and mains frequency.

Protective functions:
♦ Low oil pressure
♦ High water temperature
♦ High/low voltage
♦ Over speed
♦ Voltage regulator frequency regulator
♦ Emergency stop
♦ Start failure
Product features:
♦ Protection: Automatic start/stop, load switching and genset alarm
♦ Magnetic sensor signal
♦ Parameters setting via PC and panel
♦ Incorporates 4-channel digital input signal and 3-channel analog input signal
♦ 6-channel output signal (4-channel customized output, CAN 6-channel customized output.)
♦ Monitoring of 3-phase generator voltage and mains voltage
♦ Remote loading/unloading
♦ Advanced measurement capabilities
♦ Test button
♦ Switch between mains and genset power
♦ Reasonable structure and button layout
♦ Multiple engine parameters can be tested simultaneously
♦ Module can be configured according to customer demand
♦ IP65 protection (soundproof)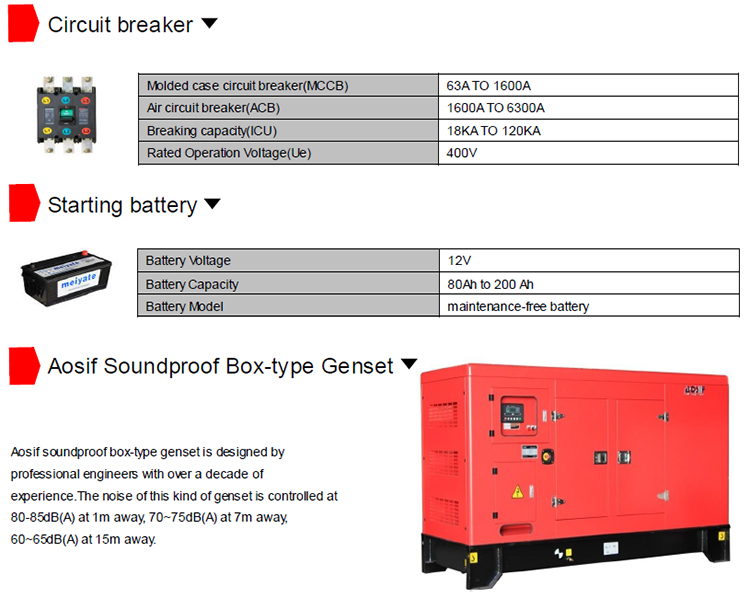 ♦ Multiple air inlets/outlets ensure power performance of the genset.
♦ Large composite impedance muffler effectively reduces the genset noise.
♦ Internal high-performance rubber shock absorber and flexible materials can reduce vibration.
♦ Fuel tank at the bottom can enable the genset to work for 8 hours.
♦  Soundproof enclosure is made by cold steel.
♦  The best powder coating with chemical surface treatment ensure corrosion resistance and coating quality.
♦  Nice appearance and reliable quality.
♦  Stainless steel locks and hinges.
♦  All-weather operation is available.
♦  Fireproof, waterproof and dust-proof
♦  High-performance insulation materials can effectively reduce noise.
♦  Transparent sight glass allows users to clearly see the content of
control panel.
♦  Emergency stop button mounted outside the genset to facilitate
emergency operations.
♦  Coolant filler is set on the top of the enclosure.
♦  Lubricant and coolant pipes are installed at the bottom of the
genset to facilitate replacement with new lubricants and coolants.
♦  Battery is accessible through the access door.
♦  Cooling fan and battery are fully monitored.
♦  Insulated exhaust system is installed inside the genset.
♦  Type of forklift frame is optional.
♦  180° rotatable and detachable door is designed for ease of
maintenance.
♦  Concave lockable access door has a long lifetime.
♦  Lights inside the genset are available for maintenance.
♦  Lugs are mounted at the bottom of the base.
♦  Top lifting mechanism is the standd configuration for high-power
genset.

♦ Products and services all comply with ISO8528 and GB/T2820 manufacturing standards.
♦ Management is implemented in strict accordance with ISO9001 Quality Management System and ISO14001
Environmental Management System.
♦ All products are CE-certified.
♦ All products have passed rigorous factory test to ensure high quality.
♦ Product warranty terms are strictly enforced.
♦ High-efficiency assembly and production lines ensure on-time delivery.
♦ Professional, timely, thoughtful and dedicated services are offered.
♦ Favorable and complete original accessories are supplied.
♦ Regular and irregular technical training are provided all year round.
♦ 24/7/365 Customer Service Center provides fast and effective responses to customers' service demands.
Informations sur la société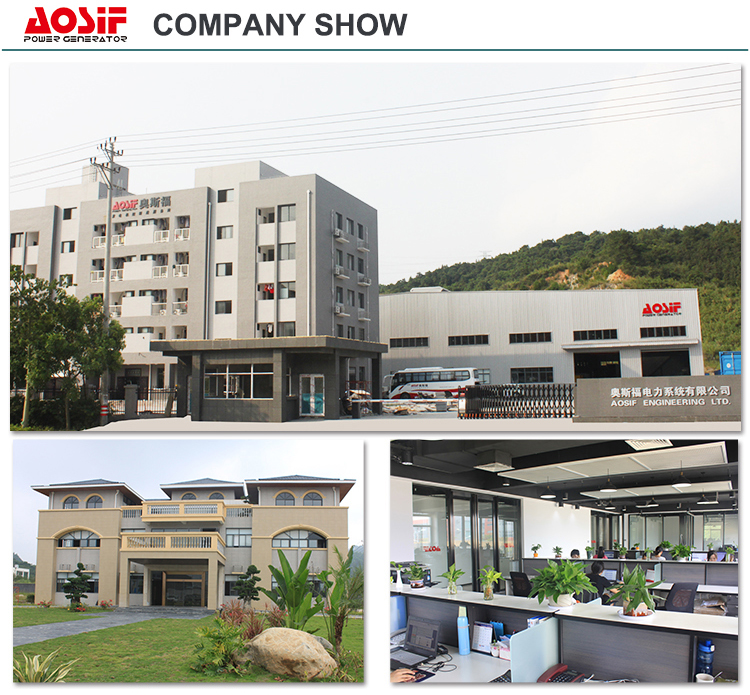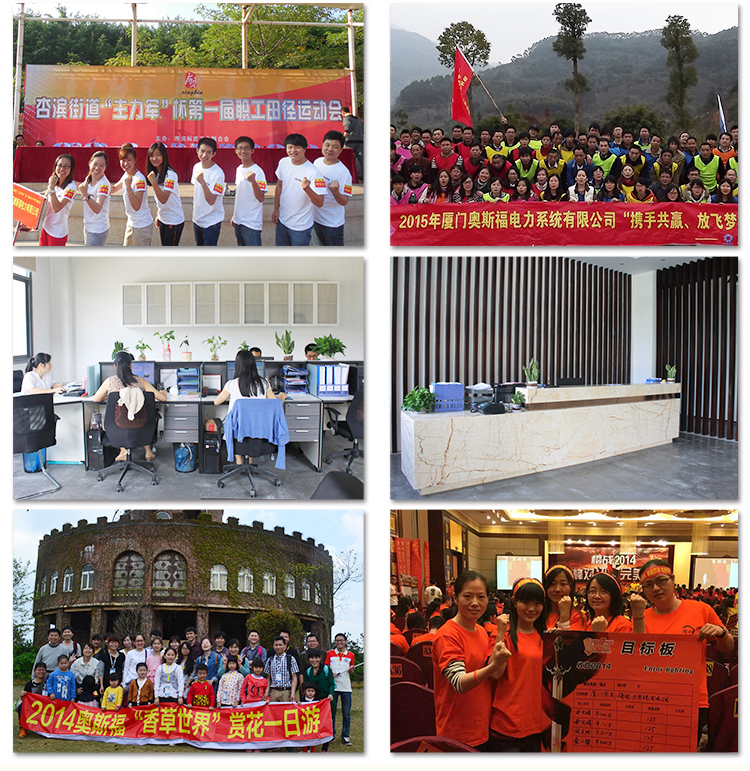 Salon de l'exposition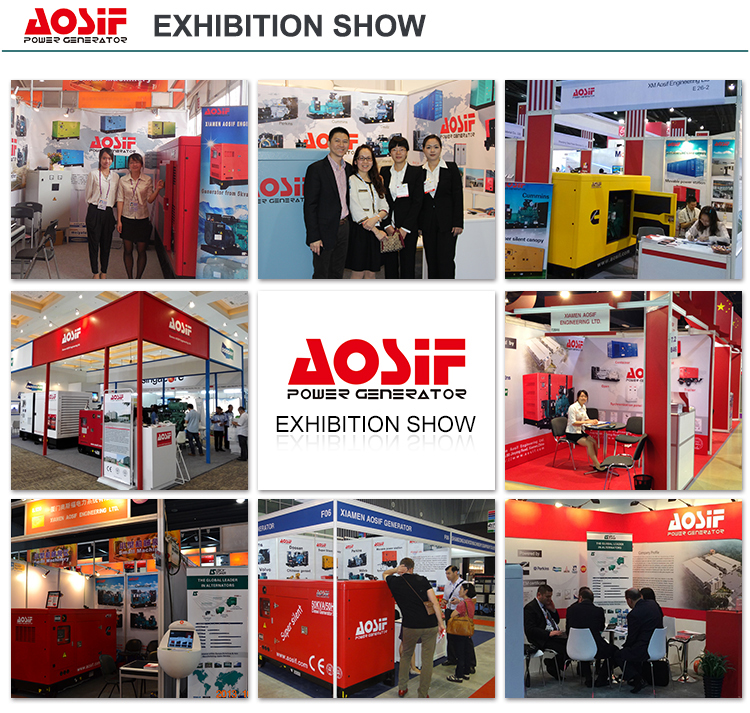 Certificat de spectacle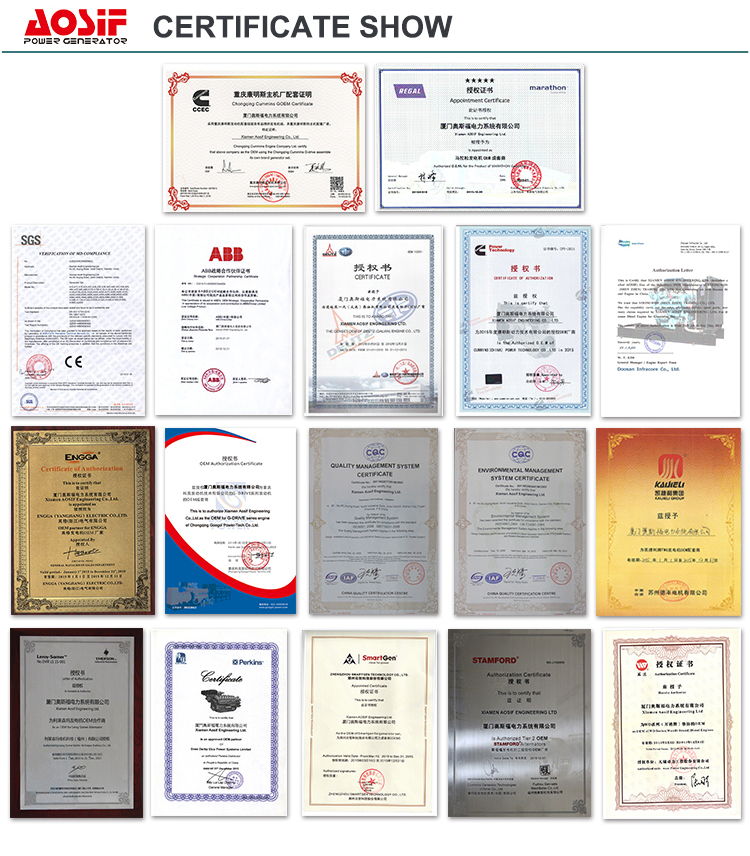 Processus de production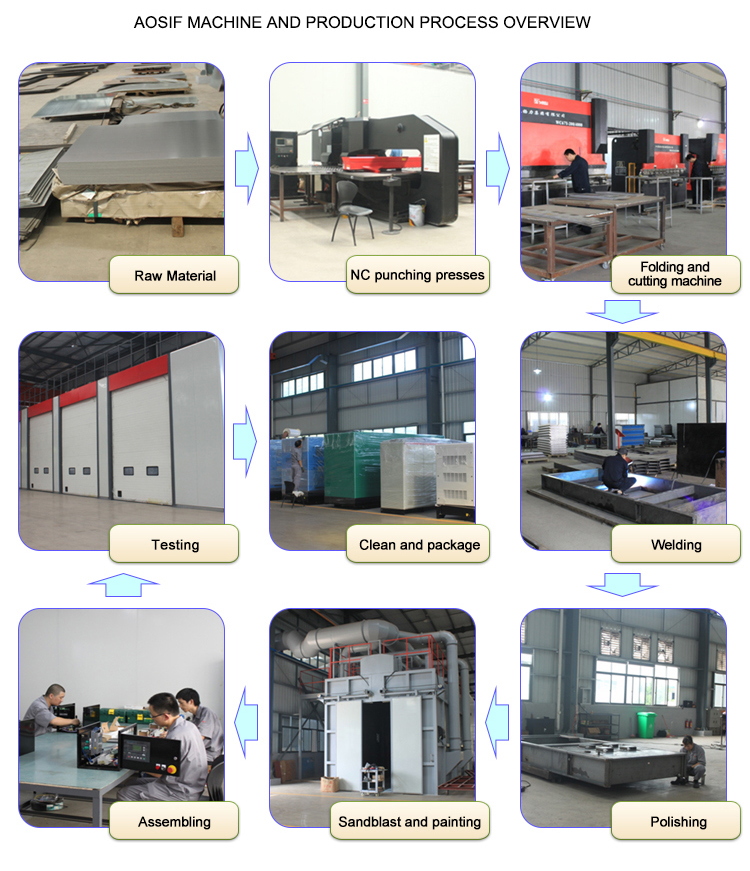 FAQ
FAQ(Frequently Asked Question):
1.What is your warranty period?
 Our payment terms is 1 year or 1000 running hours whichever comes first. But based on some special project, we can extended our warranty period.
2.Does your generator have global warranty?
 Yes, most of our products like Cummins, Perkins, Doosan power generator enjoy the global warranty service. And the alternator we use like Leroysomer, Stamford, marathon also enjoy the global warranty service, so you do not need to worry about the aftersales service.
3.Can you accept OEM?
 Yes, we can accept OEM.
4.What is your payment  terms?
We can accept T/T 30% in advance, and the balance 70% shall be paid before shipment or L/C at sight, L/C deferred payment terms or west union. 
5.What is your delivery time?
Our normal delivery time is 2 to 5 weeks. But if your order is some special engine and alternator, then the delivery time is longer. 
Contactez nous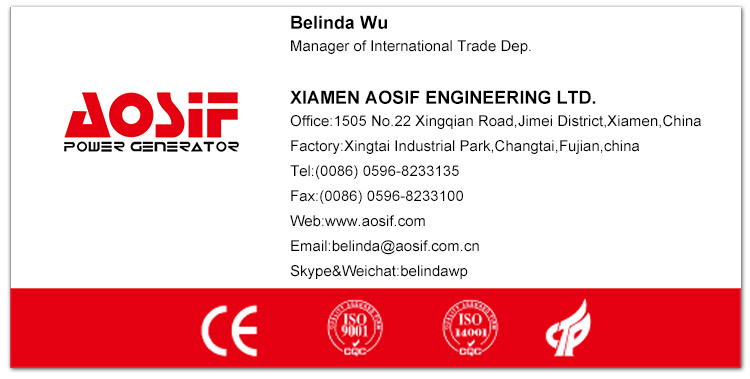 Groupes de Produits : Autres générateurs diesel